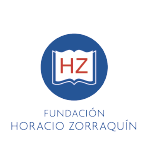 Fundación Horacio Zorraquín
At Horacio Zorraquín Foundation we work in the educational field to promote the training and exercise of human values as a basic habit in the development of children, adolescents and educators in Argentina, focusing on the most vulnerable communities in the country. Through our programs we seek to strengthen the development of their socio-emotional skills, providing them equal opportunities to improve their quality of life and achieving a real social transformation.
The Horacio Zorraquín Foundation has been working for more than 20 years with the mission of contributing to education by training in human values to promote the social and emotional development of people.
WHAT ARE OUR CONCERNS?
At Fundación Horacio Zorraquín we are convinced that human values and social and emotional skills are extremely necessary for the development of children, adolescents and their communities, since they work as preventive tools that help eradicate problems such as poverty, inequity, school dropouts, social inequalities and violence, among others. That is why we work in the educational field with programs to educate in human values and socio-emotional skills, in order to provide tools that strengthen the development of children, adolescents and educators, providing them with equal opportunities.
HOW DO WE DO IT?
Educating the educators, that is, training educators of children and adolescents, leaving them the ability to teach the necessary tools for their social and emotional development, allowing them to build their own life project. Through our programs, children manage to learn human values in their day-to-day life, through games, in a fun and dynamic way. We also have workshops for families and educators, and we invite communities to present projects that promote human values and improve the quality of life in their community.
Our team makes a follow up of each institution in a personalized way, through face to face and virtual contact, creating a strong bond and supporting them in every step of the implementation of our programs.
OUR SCOPE:
Since the foundation we have worked in 19 provinces of Argentina, hand in hand with more than 600 socio-educational institutions, of public, rural and private management, prioritizing those with the greatest needs and vulnerability.
ONLY BY STRENGTHENING THE DEVELOPMENT OF SOCIO-EMOTIONAL SKILLS WILL WE ACHIEVE THE SOCIAL TRANSFORMATION THAT WE ARE LOOKING FOR.
CONTACT:
Jerónimo Salguero 2745 - Floor 7 - Office 73 - Autonomous City of Buenos Aires.
Phones: +54 9 11 4027-8401 / +54 9 11 4027-8429
Email: info@fhz.org.ar
Website: https://www.fhz.org.ar/
Social media:
https://www.facebook.com/FundacionHoracioZorraquin/
https://www.instagram.com/fundacionfhz/
See more
See less